Madrid | January 13, 2023
The Communication Manager of Coca-Cola Europacific Partners, Teo Dueñas, and the President of Envera, José Antonio Quintero, have inaugurated this morning the studios of Radio Terrícola at Envera's headquarters in Madrid, from where the first program produced by Envera's residents with intellectual disabilities together with Coca-Cola volunteers has been broadcasted.
Precisely, a total of fifteen volunteers from Coca-Cola Europacific Partners (Coca-Cola EP) have collaborated for several weeks in the construction of the radio studio in the heart of the Occupational Center with Residence that Envera has in the capital. In addition, this initiative has been possible thanks to the support of Coca-Cola EP to the social work that Envera develops for the social and labor inclusion of people with intellectual disabilities.
The inauguration was also attended by Coca-Cola EP's Communication Manager, Eugenio García; Envera's General Director, Enrique Grande; volunteers from the company, as well as Envera's residents.
Quintero dedicated a few words of thanks to "the commitment of Coca-Cola Europacific Partners to improving the lives of people with intellectual disabilities in Envera" before proceeding to the presentation of diplomas to the volunteers who participated in the construction of the Radio Terrícola studio.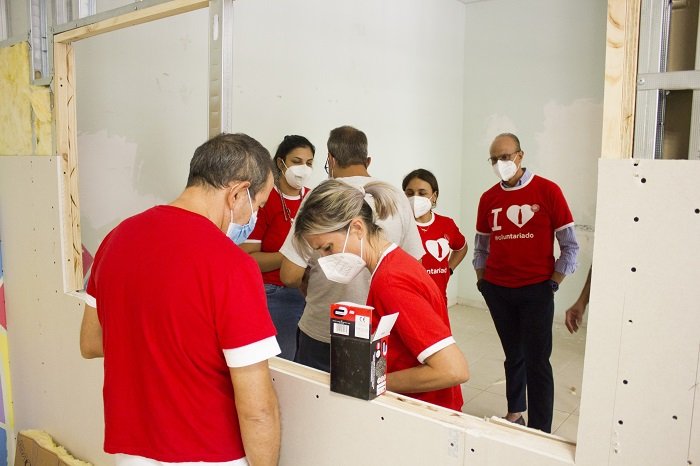 Radio Terrícola is an on-line radio workshop, an open window to the world of disability, carried out by people with intellectual disabilities from Envera's occupational centers. With this studio, Radio Terrícola already has three sites: the first one was launched in 2013 at the Integral Disability Center in Colmenar Viejo and the second one at the Envera Occupational Center in Gran Canaria. Among its awards, Radio Terrícola has received the Corresponsables Iberoamérica Award 2015 and 2019.
With the radio workshop, Envera's beneficiaries have an innovative resource that allows them to develop social and communication skills, in addition to promoting their learning and inclusion through the programs that they themselves design, prepare and carry out periodically.
Programs such as the one presented today by Envera announcers Nuria Espí, Marta Galán, Antonio Martín 'Michael' and Adrián Llopis as the starting signal for the broadcasting of Radio Terrícola from the Envera Building.