Eight editions with more than 70 trainees trained
More than 400 hours of training with internships in companies of the sector.
Madrid | July 19, 2022
Envera, in its mission to achieve and support the employability of people with disabilities, offers professional programs and specialized courses in different branches of knowledge so that students can increase their chances of access to the labor market.
The main objective of the course 'Cocina Formándote' is to train people with disabilities to perform tasks related to the hospitality sector as kitchen assistants and thus be able to access one of the most sought-after professions in the labor market.
During this training program, taught by chef Javier García, students will learn various techniques, skills and work procedures with training adapted to each of them. They will learn the elements that make up a professional kitchen, the machinery and tools used, how to work with raw materials, how to prepare food and how to present culinary preparations.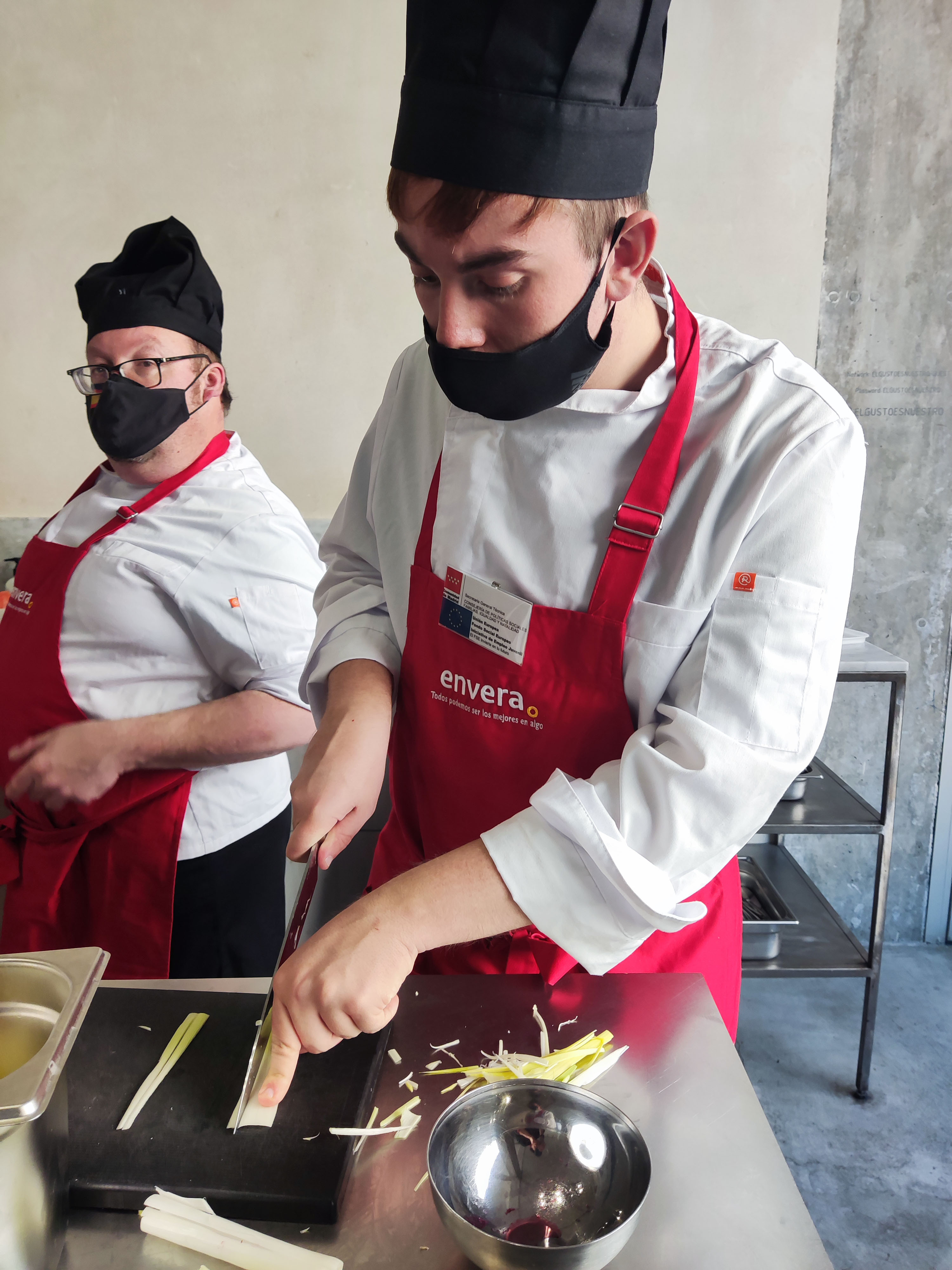 In addition, they will be trained on the functions to be performed by each member of the kitchen staff, ideal working conditions and occupational health and safety standards.
A course with more than 400 hours of training, with internships in hospitality companies committed to promoting the integration of people with disabilities, which enables students to enter a sector with great employment opportunities.
After eight editions and with more than 70 students trained, the experience, based on a practical and individualized methodology, and the success in the promotion of students are our best endorsements.
Fifty percent of the students from the last two calls for applications already have an employment contract. Students who, with effort, dedication and the necessary support, have shown that there are no insurmountable barriers and now have the opportunity to continue to break down prejudices.
Cocina Formándote' is held in Madrid from Monday to Friday from 9:00h to 14:00h, with a maximum of 12 students in order to favor a practical and individualized methodology.
We are preparing the stoves for the next edition of the Cooking Course that will start next January. Information and registration at info@grupoenvera.org or by calling 648 852 925.